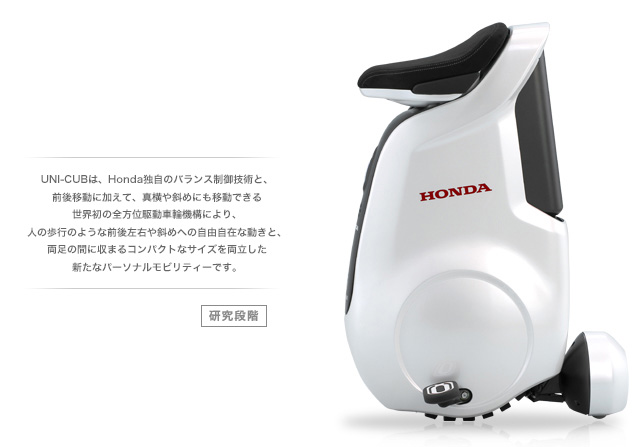 Credit: Honda 2012
Honda has unveiled a new personal mobility device called
Uni-Cub
, that lets people roll around indoor environments on a single wheel. The Uni-Cub is a new version of the previous
U3-X
personal mobility technology. The Uni-Cub uses two wheels; the front uses an Omni Traction Drive system that goes forward and back and side to side. A smaller rear wheel helps the Uni-Cub turn in place.Its electric motor drives it up to almost 4 miles an hour, with a range of 5,9 km (3,7 miles), with a top speed of 6 km. The balancing technology in the Uni-Cub is also used for Honda's Asimo robot.
Credit: Honda 2009
Starting in June 2012, Honda will jointly conduct demonstration testing of UNI-CUB with Japan's National Museum of Emerging Science and Innovation. In addition to testing the feasibility of using UNI-CUB indoors, this project will explore the practical applications of the device in a wide range of environments in Japan and other countries. Some reactions in social media: Digital Trends Natt Garun warns that "Honda UNI-CUB mobility device will definitely make us all obese", while Cnet´s Wayne Cunnigham reports that "Honda Uni-Cub promotes our fat, lazy future".
The video below shows Honda's vision of the mobilized society, where people move around in offices and shopping malls by sitting on Uni-cubs.