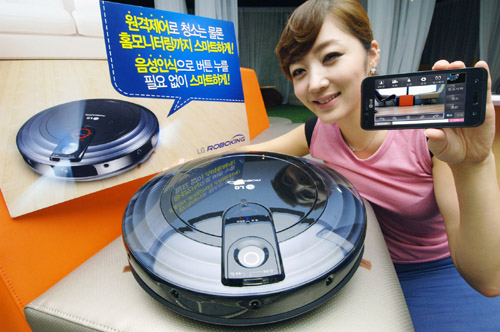 RoboKing Triple Eye, LG, 2011
According to recent media
reports
sales of vacuum cleaning robots in high-tech South Korea have increased to over 110,000 units in 2010 (+100%) and is expected to grow to 170,000 units in 2012. The driving force behind this growth is the increased number of double income families, who have less time to clean their home and therefor are willing to invest in a 50% more expensive vacuum cleaning robot.
Market leader LG with about 60 % market share offers high-tech products such as the RoboKing Dual and
Triple Eye robots
. The obots are equipped with cameras, Wi-Fi networked and can be controlled through any online interface such as a smartphone or tablet. The robot can be started remotely via the Internet or also be used as a video camera to monitor the home.
Cleaning Robots, Samsung 2011
Samsung with 30 % marekt share released a cleaner in 2011 called Tango Stealth that can also provide a home surveillance function as it acts like a moving CCTV camera. The robot come with two central processing units that give them a faster response time. The devices can also be connected to a range of mobile devices.
Smaller companies such as Mami Robot, Hanool Robotics and foreign suppliers, such as iRobot, have to fight hard to attract high-tech families in South Korea.
Will South Korea take over Consumer Robotics?
In 1960, South Korea was poorer than two-thirds of the nations in sub-Saharan Africa. Today it's the world's most digital nation, with a per capita income of nearly $29,000, higher than New Zealand ($27K) or Portugal ($22K). This transformation largely took place during 1965-1985, and is known as the "Korean Miracle." South Korea is pushing ahead with a host of interlocking technology initiatives bold enough to potentially make the period 2010-2025 a second Korean miracle, this time focused on what Seoul National University refers to as convergence technology.