What are the top keywords on Google´s future radar screen? Well, some might be "intelligent machines", "robots" and "ambient intelligence".
New York Times
reports about Google's "top-secret lab X" in an undisclosed Bay Area location where robots run free. Google X is a think tank where top researchers imagine the future invaded by intelligent machines ordering groceries via Internet, driving people and goods without driver, taking over tasks at home, office and future factories. Google's co-founder
Sergey Brin
is said to be involved in many X-lab´s projects including "web of things" applications such as remote garden planter, remote controlled coffee pots and intelligent lightning systems.
Robotic Brain Pool
The brain pool behind the X-lab is including people hired from MIT, Stanford, Carnegie Mellon, Microsoft and Nokia Labs. Google X lab has attracted top researchers from Stanford like robotics experts AI professor
Sebastian Thrun
and professor
Andrew Ng
, and HCI and Kinect expert
Johnny Chung Lee
from Microsoft.
Thrun
is one of the early pioneers of probabilistic robotics and his team won the DARPA Grand Challenge and placed second in the DARPA Urban Challenge.
Ng
is expert in integrating tools from all the diverse areas of AI, to build a useful, general purpose home assistant robot.
Lee
is engaged in rapid evaluation (RE), an intensive, team-based, program-focused investigation that uses multiple methods of data collection; RE has an iterative process for collection and analysis; and relies on community participation in order to quickly develop a holistic understanding of a program from both an insider's and an outsider's perspective.
The $500 Do-it-Yourself Telepresence Robot
Rapid evaluator Lee has already demonstrated his robotic and entrepreneurial mindset by building a low cost telepresence chat robot that he can use to drive around the house remotely. The robot costs $ 500 including an iRobot Create which costs around $250 (incl. battery, charger, and USB serial cable) and a netbook which costs $250 as well. Check out the video below how to build it by yourself.
A more expensive robotic solution is the driverless Google robotic car.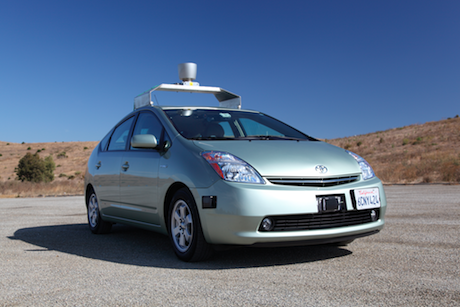 Google Robotic Car
This project was unveiled by Google last year demonstrating the
Google driverless car
racking up over 140,000 miles in California tests alone. In the future fleets of robots could assist Google with collecting information, replacing the humans that photograph streets for Google Maps. Google is said to be considering the manufacture of its driverless cars in the United States. Check out Sebastian Thrun´s
TED talk
about Google Car.
Google Robot to the Moon
Google is not only driving around on earth but also targeting the moon. As a sponsor of the
The Google Lunar X PRIZE
( GLXP), a space competition organized by the X Prize Foundation, Google will pay the winner $30 million. It was announced at the Wired Nextfest on 13 September 2007. The challenge calls for privately-funded spaceflight teams to compete in successfully launching, landing, and then traveling across the surface of the Moon with a robot, while also sending back to Earth specified images and other data.
Putting together these robotic examples might give some insights about Google´s future vision and business ambitions to become the world´s robotic leader. Google has resources to acquire what is needed to stay ahead. In 2011 Google has spent US$1.4 billion in acquiring more companies than any other year in its history. With US$10.6-billion in cash Google has financial strength to build its own robotic roadmap to Robotland.