Urgent Needs of Disaster Response Robots in Japan 2011
As reported here before disaster respond robots have been used to get the damaged Fukushima Daiichi Nuclear Power Plant under control and to support also other disaster response missions in EQ and tsumani devastated regions in Japan. According to Prof.
Hajime Asama
, Chairman of the
Robotics Task Force for Anti-Disaster
(
Robotad
) and member of
Remote Control/Robotics Project
the needs for robots is very high. At his recent
ICRA 2011
Special Forum Presentation in Shanghai he listed missions for stabilization of the cooling system, containment, decommission to reduction of radiation exposure of workers. Main robotic tasks include debris cleaning, radiation survey and mapping, surveillance inside the buildings (images, radiation, temperature, humidity, oxygen concentration, etc.), shield and decontamination, etc.
Prof. Asama mentioned also the need of disaster robots for search and rescue of victims, inspection, diagnosis and recovery of plants and facilities, surveillance of coast underwater, mapping of the damaged area, power assist for heavy load tasks and also for mental care of evacuees.
Credit: Honeywell, T-Hawk Micro Air Vehicle
Robot Operations since April 6th
Robots started operations at Fukushima Daiichi NPP April 6th, when the first unmanned construction system (UCS) such as remote controlled crawler dumps arrived.
On April 10th the first remotely controlled combat-proven Micro Air Vehicle
T-Hawk
of
Honeywell
took top view images and videos of the damaged reactor buildings unit 1, 3 and 4
On April 17th the first mobile
Packbots
of iRobot entered the first floor of reactor building 1, 3 and 4 and transmitted the first images and videos from the reactor inside.
The current challenge for the robot teams is to understand the dynamically changing situation at Fukushima Daiichi and to propose optimal solutions utilizing robot technology according to the day-by-day mission, tasks and working environment conditions. Technical challenges are i.e. the tolerance against radioactive environment, implementation of communication systems, measurement by sensors, mapping, battery and power supply. Other issues are operation planning and training of operators.
Disaster Robot Candidates 2011
Image: Brokk 90
There are many foreign and Japanese candidates of robots for coming operations underway such as Packbot and Warrior from iRobot, micro UAV T-Hawk from Honeywell, surveillance and reconnaissance robots
Talon
and Dragon Runner from
QinetiQ
, the remote controlled eavy-duty lifter Bobcap, and the Swedish demolition robot Brokk 90.
Image: IRS, KOHGA3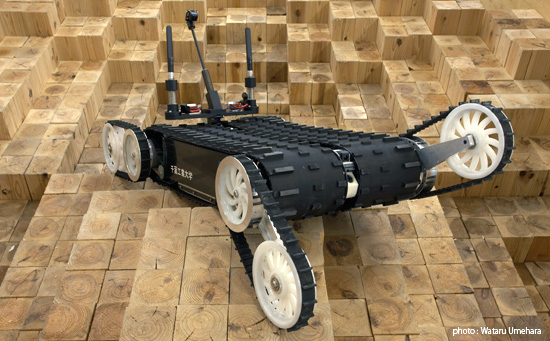 Image: IRS, Quince
Among the Japanese robot candidates are Yamaha's
RMAX
- the worlds most advanced non-military UAV, mini rescue robot
KOHGA3
from Kyoto University and the most advanced rescue robot
Quince
developed by Chiba Institute of Technology, Tohoku University, and IRS.
For the moment, the taskforce is recommending the use of the compact Japanese-made Quince robot, which has two main caterpillar tracks and four smaller protruding ones which can be angled up or down to enable it to climb over debris and up stairs.
Moni-Robo
developed by Japan's
Nuclear Safety Technology Centre
to operate at lethal radiation levels.
UMRS and the snake-like robot Soryu developed by
IRS
, the monster robot
Enryu
from tmsuk, the NBC anti-terror robot
FRIGO-M
from Mitsubishi, but also therapy robot Paro.
But before these robots can be mobilized many technical and operative issues have to be considered and investigated. Mobilizing a robot without any consideration could complicate the situation and may even hinder work. The first step is to extract in detail the missions and tasks for the robot system to do and to investigate the environmental conditions such as working space, debris and obstacles, temperature and humidity, lightning condition, radiation level.
The next step is to propose a solution including selection of robot technologies, reinforcement, modification and implementation. Planning includes estimation of radiation dose, access route, optimization minimum operation time. Important is also conflict resolution of radio frequency.
Before robot operations can start operators have to be trained, a operation room has to be setup, reservation of parking and decontamination space for robots is needed. Power supply and communication cables have to be in place as mapping facilities.
The final stage is the robotics operation including monitoring of radiation dose and life time estimation, decontamination, battery replacement, maintenance, management of operators´radiation exposure.
Lessons learned so far and future issues are the examination of the political strategy to sustain technology developed for nuclear disasters. An organization for quick response to emergency and disaster is needed as international cooperation framework for mutual technology support.
Japan has learned that a nuclear disaster can happen even in Japan and that sometimes military robots are needed to cope with extreme disaster conditions. Today Japan is prohibited to make military robots and therefore dependent on foreign support.