Robotland asked some of the world leading rescue robotics researchers, why there are no firefighting robots operating at the Fukushima site. One reason mentioned was that the reachable distance/height of spraying would not be enough for this plant, in addition to the radiation issue. Most firefighting robots are small type UGV or only prototypes. But it was also mentioned that Japanese power plant companies haven´t seen a need of such robots because they considered their nuclear plants as safe and free from
accidents
.

Firefighting Robot Development in Japan


The development of practical high-performance robots that are affordable to fire headquarters have been implemented with the objective of developing robots for

NBC terrorism by 2006.

NBC disasters are special disasters including Nuclear disasters caused by nuclear radiation and radioactive substances, Biological disasters caused by pathogenic microorganisms such as viruses, rickettsia and microbes, and Chemical disasters caused by toxic chemicals.
In 2006 a
Firefighting Technology Policy Office
was established in the
Fire and Disaster Management Agency
(
FDMA
) of the Ministry of Internal Affairs and Communications (MIAC). The FDMA and its
National Research Institute of Fire and Disaster,
NRIFD
, conduct research to address the common challenges for all prefectures of Japan, including development of equipment for emergency firefighting assistance teams and development of an information system for coping with large scale natural disasters including earthquakes.
Credit: Mitsubishi/NRIFD (FRIGO-M)
NRIFD
in Tokyo is the only institute in Japan engaged in comprehensive research on firefighting and disaster prevention. NRIFD conducts developmental research on robots that assist with firefighting activities, such as information collection and rescue efforts, in areas where firefighting personnel find it difficult to enter, including fires at nuclear power plants and areas affected by the release of toxic gases due to terrorism. Extreme environmentally-resistant modifications, including waterproofing, dustproofing and shock resistant capabilities that allow the robot to be used directly at the scene of fires, have been made, and robots are being introduced in experimental programs for practical deployment in the future.
The robot "
FRIGO-M
" is capable of autonomously recognizing and following a firefighter wearing firefighting clothing etc., automatically recognizing and memorizing the path of movement taken, and autonomously transporting disaster victims found by the firefighter to safety by retracing the path. The FRIGO-M robot has a main body that is highly waterproof, dustproof, explosion-proof, and shock-resistant.

Local Fire Fighting Research & Development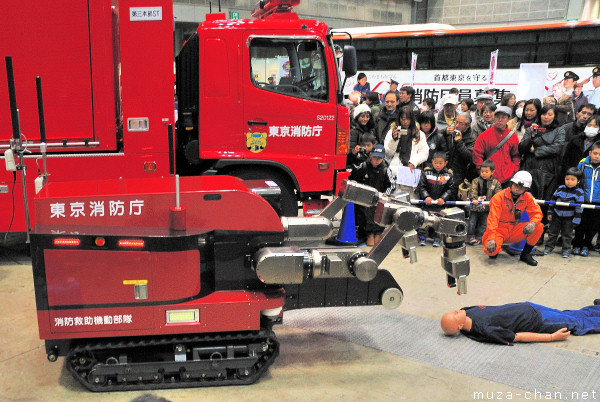 Credit: Muza-Chan - Robocue Tokyo FD
Several types of firefighting robots have also been developed by local government firefighting departments in Tokyo, Osaka, Kanagawa etc. Most of them are small type UGV. A large unmanned spraying robot of Tokyo Firefighting department has been used for large-scale fires, such as at Bridgestone fire incident.
The
Tokyo Fire department
has 12 different types of fire fighting and rescue robots. These robots are designed to handle disasters that are too dangerous for personnel during an emergency. Some types of robots can shoot water or foam on to fires. One type can rescue a person and another type are able to move large objects. Currently all robots are controlled by remote operators.
Robocue
is a remote-controlled rescue robot, used by Tokyo Fire Department since 2009. Robocue was built to save lives in case of disasters, being capable to pull a person inside its body (using a sort of pincers and a conveyor belt) and to carry it to safety.